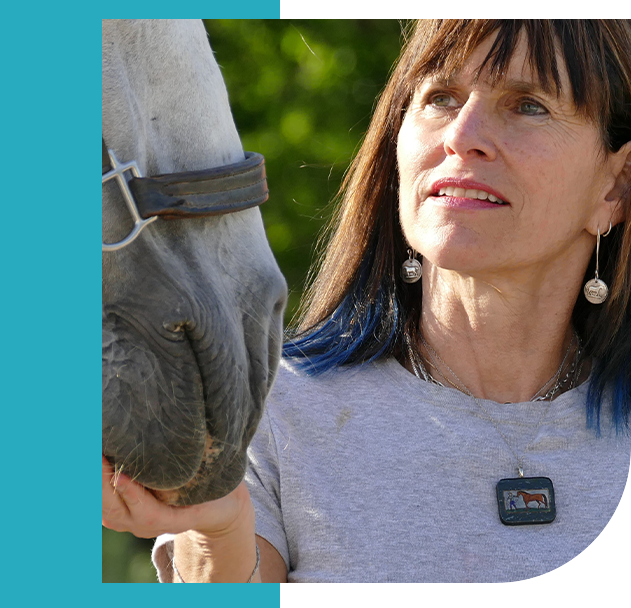 My name is Irene Greenberg and for as long as I can remember two things have been at the core of who I am: I love creating things with my hands, and horses draw me like magnets. Happily, the two came together and found expression in Equestrian Artisan (formerly Eye Gee Design, launched in 2013).

I don't know where my passion for horses came from. No one in my family rides. There were no farms where I grew up. Yet I remember being very young and the electric thrill of riding the mechanical horse outside the Woolworths store. When I got older I graduated to real horses and as an adult finally got one of my own. Ultimately I found, in dressage, a lifelong pursuit that offers transcendent moments when I feel my horse and I are one, which is even better than my childhood fantasies.
My creative side is probably inherited. One grandfather was a tailor and a grandmother was an uber-baker. My mother painted. Whatever the source, I have always been good with my hands and like nothing better than getting lost for hours in creative projects. Over the years I've done traditional silver work, industrial welding, leaded stained glass, print-making, beadwork, calligraphy, sewing, quilting, crewel embroidery, knitting, paper-making, drawing, painting, mosaics, upholstery, and mixed media collage.
The idea for Equestrian Artisan began in 2007 when I heard about a new product called silver clay. My imagination was fired by the comparative ease of working with silver clay compared with the traditional silverwork techniques I'd done before. That's when I decided to create a line of equestrian jewelry. I completed the Precious Metal Clay Certification courses, set up my studio, and focused exclusively on silver jewelry for a few years. Then I branched into fused glass pendants, which dovetailed perfectly with what I was already doing, and expanding the kinds of jewelry I could make. In 2018, I gained access to a glass studio with industrial-sized equipment and I started making larger fused glass pieces, including dishes and bowls. At about the same time, I bought a laser cutter and began engraving tiles, so now I offer home decor items in addition to jewelry.
My designs are strongly influenced by equestrian art from the days when horses were still part of everyday life. I am drawn to Greek and Roman art, 17th century etchings, folk art, vintage silhouettes, and other antique images of horses.
What else can I tell you? My husband — also my photographer — and I live in southeast New Hampshire in the summer and in Wellington, FL in the winter. We share our home with a Boston Terrier named Buster who we adopted in late 2020. I have two horses: a retired Hanoverian gelding living the good life at a farm in NH, and a once-in-a-lifetime Oldenburg gelding named Repertoire with whom I continue the never-ending study of dressage with my friend and trainer, Shannon Dueck.
Thank you for visiting!